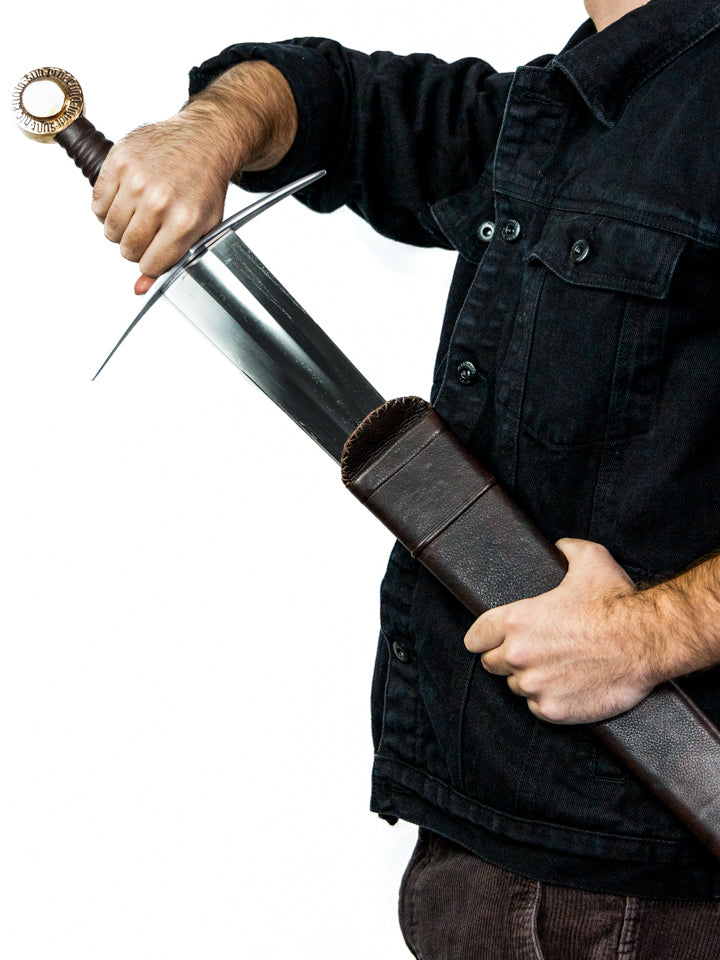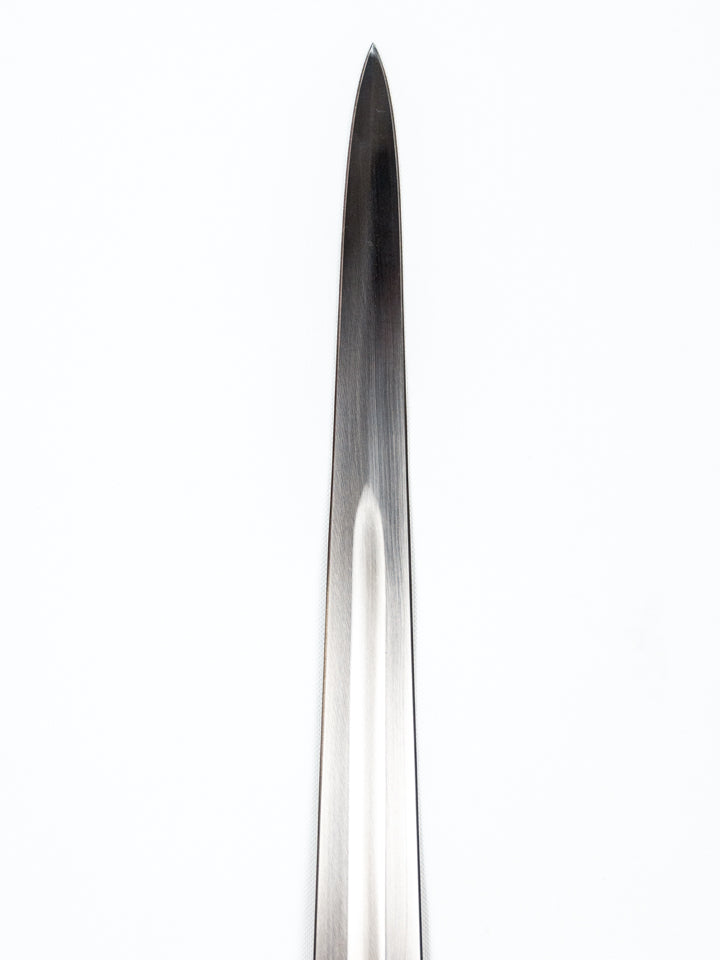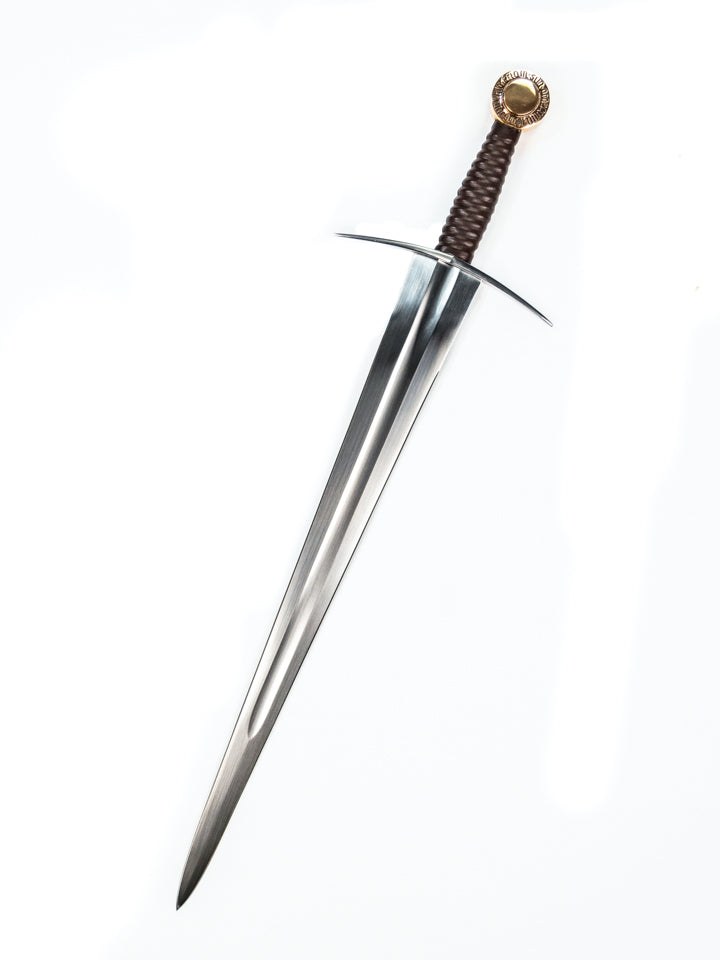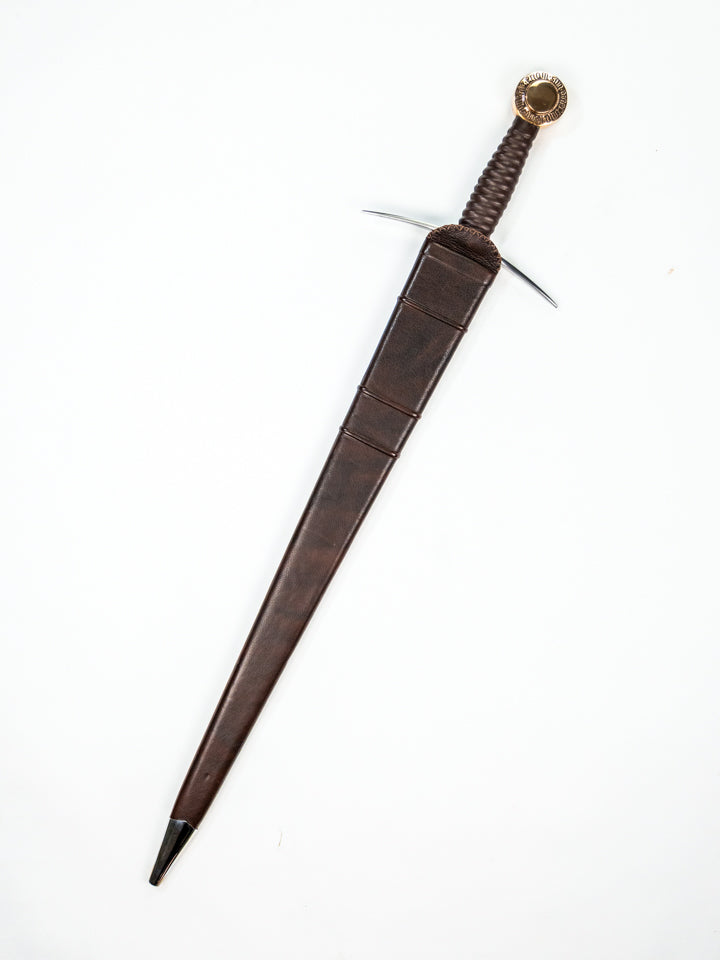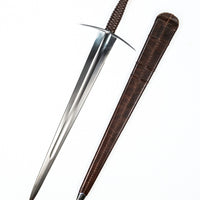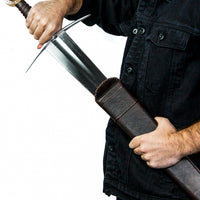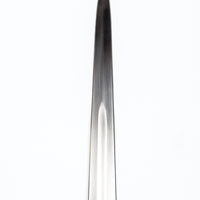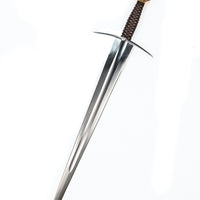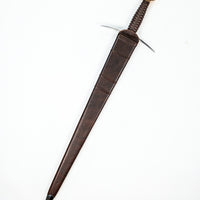 14th Century Medieval Arming Sword
Rated The #1 Katana Brand in the USA

Over 300,000 Happy Customers

97.1% Customer Satisfaction Rating
Historically-Inspired Design - This sword is a detailed replica of the early 14th-century swords housed in the Metropolitan Museum of Art, resonating with historical significance and detail.

Intricately Inscribed Pommel - The solid bronze pommel is beautifully inscribed, adding a touch of medieval grandeur and authenticity to the sword.

Premium Quality Blade - Forged from high-grade carbon steel 1080, the blade features a core hardness of 50 HRC and an edge hardness of 52-55 HRC, ensuring both strength and sharpness.

Luxurious Grip and Guard - The grip is made from teak wood and wrapped in leather for comfort and elegance, complemented by a proportionate and durable mild steel guard.

Protective Leather Scabbard - The sword includes a wood-lined leather scabbard, designed for both protection and display, enhancing the overall value and appeal of the piece.
Blade Material: 1080 High Carbon Steel
Core Hardness: 50 HRC
Edge Hardness: 52-55 HRC
Grip Length: 5.12 in.
Overall Length: 33.86 in.
Blade Length: 26.77 in.
Blade Width: 2.64 in.
Weight: 2.65 pounds
Guard: Durable Mild Steel
Pommel: Solid Bronze, Inscribed
Grip: Teak Wood, Leather-Wrapped
Scabbard: Scabbard: Wood-Lined, Leather
Historical Replica: Early 14th Century Design
USA ORDERS
We process orders in 1-4 business days.
USA orders should arrive in 3-7 business days.
OTHER COUNTRIES
We process international orders in 3-5 business days.

Please expect your orders to take around 10-15 business days. Every country has different customs and protocols, which could potentially result in a delay in the arrival of your item.
Read Our Full Shipping Policy Here
HIGHEST-QUALITY CARBON STEEL
At Mini Katana, we pride ourselves on the quality and craftsmanship that goes into our hand-made katanas and replicas.


MILLIONS OF FOLLOWERS
Mini Katana is the #1 viral sword brand on social media, racking up billions of views and millions of devoted followers. Check out our videos on social media and see for yourself.
FREE SHIPPING ON USA ORDERS $35 AND ABOVE
All USA orders $35 and above come with free and fast shipping. When you purchase, you will receive a tracking link and a delivery date to see when your order will arrive.